Shop: Silverjuke Desktop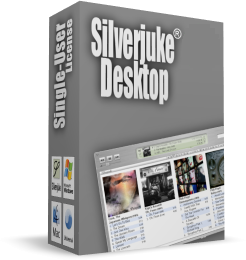 Your selection:
Product
Shipping
Qty.
Price
Silverjuke Desktop
E-Mail
1
29 EUR
Total:
29 EUR
Additional options:
| | |
| --- | --- |
| | I want a family licence for up to 5 users in the same household (only 10 EUR extra fee) |
The payment is done by our partners using an encrypted, safe connection. You can select other billing currencies on the next page; the exact amount eg. in US$ will be shown there as well.
On receipt of your payment, you'll receive your personal licence key and your download link for Silverjuke by e-mail. Transactions by credit/debit cards or by PayPal will be completed within a few minutes. For further questions please .
Prices incl. tax if necessary.